===Energy-based & Physical attacks===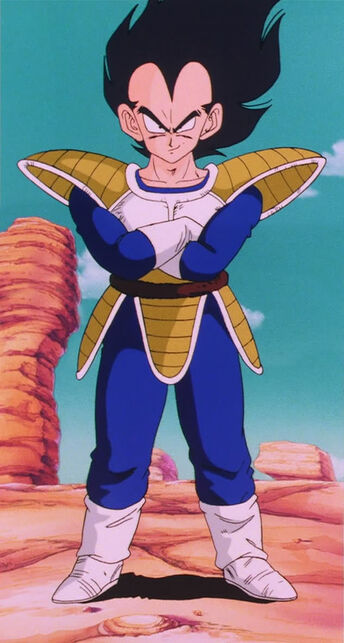 [1]Vegeta uses the Super Energy Wave Volley[2]Vegeta's Super Energy Wave Volley[3]Vegeta's Exploding Wave[4]Vegeta's upside down blast [5]Vegeta blasts a Meta-Cooler [6]An enraged Vegeta blasts Cell*Amazing Impact – A rush attack Vegeta uses in his Super Saiyan form. He used this attack when battling Android 19. This attack became a Counter Super in Dragon Ball: Raging Blast.
Spirit Breaking Cannon – A rush attack used by Vegeta in his Ascended Super Saiyan form. The moves he does in this attack are taken from his fight with Semi-Perfect Cell. This attack became a Counter Super in Raging Blast.
Super Big Bang Attack – A more powerful version of the Big Bang Attack that Vegeta uses in Dragon Ball Z: Burst Limit.
Super Big Bang Cannon – A more powerful version of the Big Bang Cannon that Vegeta uses throughout the Frieza Saga.
Super Energy Wave Volley – Vegeta releases a rapid barrage of energy blasts at his opponents, causing a massive accumulation of damage.
Super Explosive Wave – Vegeta releases a gigantic wave of energy from his body, causing a huge amount of destruction. He first uses this in his fight against Goku in the Saiyan Saga.
Vanishing Blow – Vegeta charges his energy, and releases most of it in a large, blue energy wave, inflicting a high amount of damage. Used to destroy Dodoria in the Namek Saga.
===Speed and movement techniques===
Afterimage – The user moves at ultrahigh speeds, leaving an afterimage where he was previously located.
Flight – The ability to fly with the use of ki.
Great Ape – Same as other Saiyans, those who have a tail and looks at the full moon can transform.
Super Saiyan – The first Super Saiyan transformation, first achieved by vigorous training before the Androids' arrival.

Super Saiyan Second Grade – A more powerful branch of the Super Saiyan, achieved in the Hyperbolic Time Chamber, and used in the fights with Cell.
Super Saiyan 2 – The sequel to the Super Saiyan transformation, achieved in training during the 7 years of peace after the Cell Games.
Super Saiyan 3 (video games only)
Golden Great Ape – Can only be achieved if the user is a Super Saiyan, and if they have a tail. Only seen inDragon Ball GT.
Super Saiyan 4 – A combination of the Super Saiyan and the Great Ape form controlled, used in Dragon Ball GT in the final fight with Omega Shenron.
Super Saiyan Blue: Use in super it gains strength but lessens stamina and speed.
Super Saiyan God: Used in the Broly movie it has better stamina and speed than blue form.
Fusions & Fusion Transformations
[
edit
|
edit source
]
Techniques appearing in video games
[
edit
|
edit source
]
Supersonic Warriors series

[

edit

|

edit source

]
Auto-Counter
Auto-Flying Kick Counter
Auto-Heavy Counter
Blaster Wave
Step-In Sway
Sway Ground Slash
Sway Heavy
Sway Lift Strike
Counter - High Speed Rush Movement
Counter - Z Counter
Hyper Smash
Lightning Attack
Step-In Auto-Counter
Step-In Auto-Heavy Counter
Step-In Flying Kick
Step-In Ground Slash
Step-In Heavy
Step-In Ki Wave
Step-In Lift Strike
Step-In Sway
Sway Ground Slash
Sway Heavy
Sway Ki Wave
Sway Lift Strike
Vanishing attack
Z Counter
Air Combo 1
Air Combo 2
Air Combo 3
Blaster Wave Combo
Dragon Tornado
Energy Storm
Heavy Crush
Kiai Cannon Smash
Power Press
Rolling Hurricane
Rush Finish
Rush In
Rush In Attack
[7]Vegeta fires the Super Energy Wave Volley
Community content is available under
CC-BY-SA
unless otherwise noted.