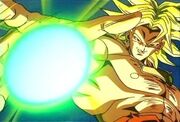 Eraser Cannon (イレイザーキャノン) is Broly's signature technique that is usable in all of his forms. First, Broly charges green light from around his body and gathers it into his palm to form a bright-green energy sphere. Next, he waves his hand forward and fires the attack at the opponent, inflicting a large amount of damage. [1]Broly charging the Eraser Cannon in Broly - Second ComingAdded by DB wizardThe power of the Eraser Cannon seems to vary with Broly's energy; depending on how much power he uses for the attack, it is capable of causing huge explosions and even destroying whole planets. In the movie, Dragon Ball Z: Bio-Broly, it is shown that Broly's clone, Bio-Broly can also use the Eraser Cannon.
Eraser Cannon was named in the Budokai Tenkaichi series, where it is Broly's Ultimate Blast in his base form and one of his Blast 2 attacks in both his Super Saiyan and Legendary Super Saiyan forms. The technique is named Blaster Shell in Dragon Ball Z: Budokai 3, Dragon Ball Z: Super Sonic Warriors 2, the Dragon Ball Z: Shin Budokai series, Dragon Ball Z: Burst Limit and Dragon Ball Z: Infinite World, and Blaster Cannon in Dragon Ball Z: Attack of the Saiyans.
Variations
Edit
The Eraser Cannon has a few variations.